A Friend in Need
During the Korean War, many units served alongside the 31st Infantry, but none as respected as the Ethiopian "Kagnew" Battalion. In his book, Pork Chop Hill, S.L.A. Marshall refers to the Ethiopians as the most successful unit of any, despite language barriers and the vast difference of Ethiopia's arid terrain from Korea's cold hills. A member of that battalion, Gebre M. Kassa, later became the most revered officer in the Ethiopian Army. I met him in 1976 at the Command and General Staff College and was deeply impressed by his tactical competence and devotion to his profession. He wore a Silver Star, pinned on him near Pork Chop Hill by the 7th Division commander. When Emperor Haile Selassie was overthrown, his successor, Mengistu continued to call Kassa, his former commander, "sir". Having fought Communism in Korea, Kassa opposed Mengistu's alliance with the Soviets and declined taking a position in his government. Because Kassa was so widely respected in the Army, Mengistu feared him and had him killed. Kassa's oldest son was imprisoned and tortured and lives today as a cripple with his mother who supports her family as well as she can on a widow's pension of $4 a month. I encourage those who served alongside Ethiopia's "Kagnew Battalion" in Korea to join me in helping the family of a true hero who was as much one of our own. A small donation will go a long way. If you could write a check to Mrs Aselefech Kassa, I'll get your donation to her.
---
ETHIOPIAN FORCES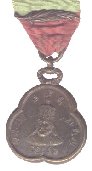 Distinguished Military Medal of Haili Salessie the First
Ethiopia furnished three 1,200-man battalions to the UN Command, beginning in June 1951 but only one battalion at a time. The first of these battalions — known as Kagnew (Conquerors) Battalions — arrived in May 1951 and was assigned to the U.S. 7th Infantry Division.
1st Kagnew Battalion Jun 51 — Apr 522nd Kagnew Battalion Apr 52 — Apr 53

3rd Kagnew Battalion Apr 53 — Apr 54
(09/20/99 — A monograph on these units' activities and casualties, plus unit crests/patches, will be posted when received from the Ethiopian Korean War Veterans Association.)
Casualties                         122 KIA                 566 WIA